 
66608 First Mini-Z Nissan GT-R (R35) Radio Control Electric Touring Car
●Scale approx. 1/28
●Product size: L164 x D73 x H45 (mm) ● Body
weight: approx . Mode: 7km/h / Racing mode: 10km/h ●Operable distance: approx. 30m ●Frequency: 2.4GHz (12 units can run simultaneously) ●Continuous running time: approx. 60 minutes (when using new alkaline batteries) ●Target age: 6 years old that's all
KIT CONTENTS
●Main unit
●2.4GHz controller with stopwatch
●Mini pylons (6 pieces)
●Trim adjuster
●Battery holder
WHAT YOU NEED BEFORE RUNNING
● 2 AA alkaline batteries for the First Minute main unit,
● 2 AA alkaline batteries for the controller
If you want to start radio control, this is it!
First Minute is perfect for those who want to start casually!
The First Minute focuses on the three points of "new real drive mechanism", "mode switching", and "time attack at home" so that everyone who pilots can enjoy the real thrill of radio control. We are trying to differentiate from C.
In addition, the chassis body is equipped with front and rear suspensions that absorb shocks while driving, and rubber tires that firmly grip the road surface. promise. The completed body that can be enjoyed for ornamental purposes is quite well made. Whether it's your first R/C car or a step up from a toy R/C car, the 1st MINI-Z is the perfect start to your fun R/C life.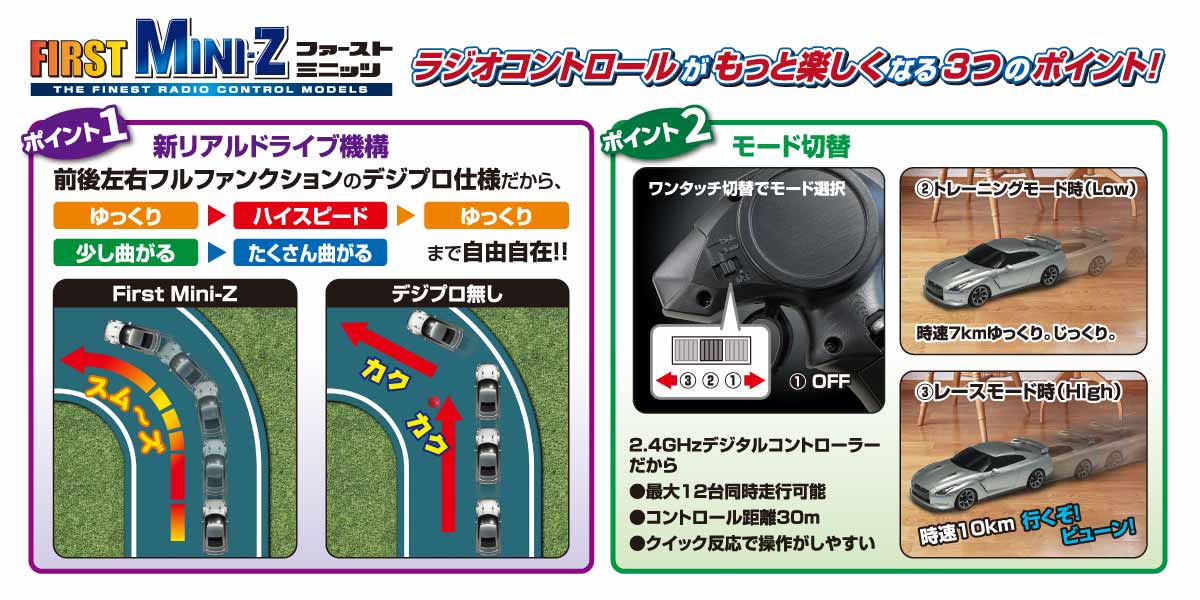 [Point 1] New Real Drive Mechanism ~Experience the joy of manipulating~
A new real drive mechanism with front, rear, left and right full function that realizes smoother driving. If you turn the steering wheel of the controller, which is equivalent to the steering wheel of a real car, the car will make a large turn, and if you turn it a lot, it will make a small turn. Similarly, if you pull the throttle trigger of the controller, which is equivalent to the accelerator of a real car, you can drive at low speed, and if you pull it hard, you can drive at high speed.
[Point 2] Mode switching ~Two types of speed can be switched with one touch~
The 7km/h training mode (Low) and 10km/h race mode (High) can be switched with a single touch of the controller switch. The training mode is recommended when you want to drive slowly and thoroughly, or when practicing to get used to maneuvering. Once you get used to maneuvering in training mode, switch to racing mode and enjoy high-speed driving.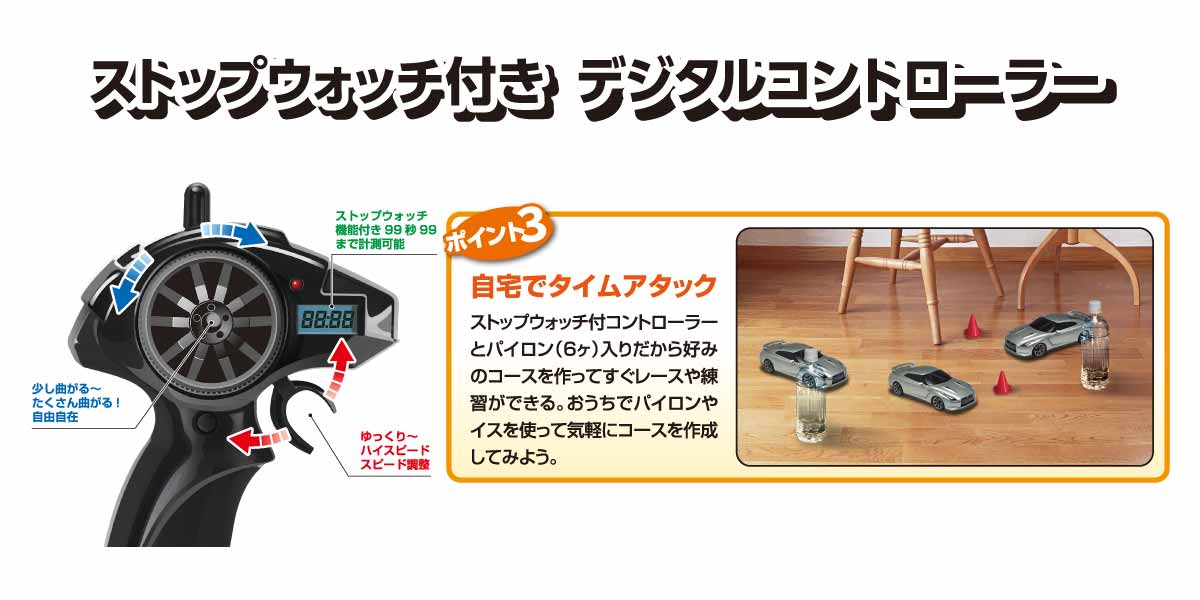 【Point 3】
Time attack at home ~ Digital controller with stopwatch that feels like a race ~
Comes with a controller equipped with the industry's first stopwatch function (capable of measuring up to 99 seconds 99). In addition, since mini pylons (6 pieces) are also included, in addition to making a course in the house to time attack, since it uses 2.4 GHz radio waves that can run up to 12 cars at the same time, it can be used for racing. You can enjoy it.
When driving, the front and rear LED lights light up.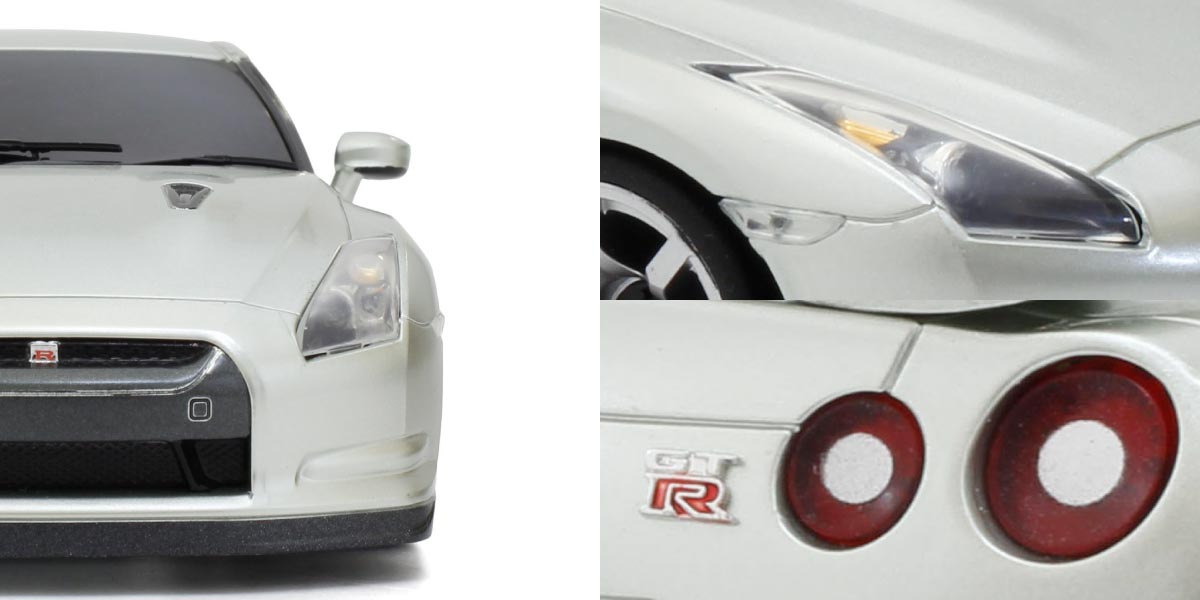 Japan's world-famous supercar "GT-R". Its voluminous form has an overwhelming presence even in the first minute. It's a satisfying workmanship just to decorate it when not playing.